Memo from God
Do you want to enroll into the course?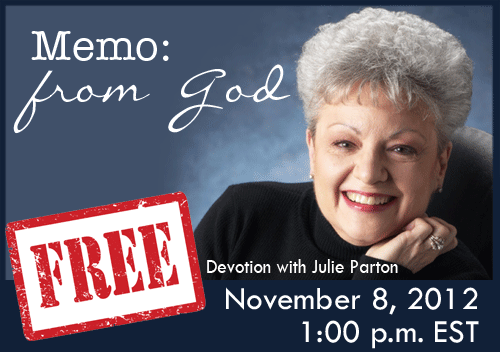 Description:
This ministry is tough. At times, it can take a lot out of you. Take some time out during your day to refresh and join Julie Parton for a short devotional titled "Memo from God." Back by popular demand after being offered at Heartbeat's 2012 Annual Conference, use this time to take a few minutes to reflect on our role in this ministry as we put another election behind us and look to what the future may hold.
About the Presenter:
Julie Parton currently teaches in the Psychology Department at Dallas Baptist University. Dr. Parton joined Focus on the Family as Director of the Pregnancy Resource Ministry in 1998. From then through 2005, she also served as Editor-in-Chief of Focus on the Family's HeartLink newsletter, a bi-monthly publication to approximately 2,500 pregnancy resource centers around the world.
Prior to her position with Focus on the Family, Julie served as Executive Director of the Prestonwood Pregnancy Center. In 1990, Julie helped organize and start this center while also assisting other groups in starting their own centers. She was the Director of Education and Wellness at the Minirth-Meier Clinic in Richardson, Texas before working with the Prestonwood Pregnancy Center. Julie spent 15 years with Dallas' Bible Study Fellowship as a discussion leader and later a teaching leader. As a former board member for Heartbeat International, Julie has been a friend to Heartbeat for several years.
Julie earned her Ph.D. in Christian counseling from Andrew Jackson University in Birmingham, Ala., and a Master's in counseling from the University of North Texas. She and her husband, Paul, have been married for 44 years and have three grown daughters, Betsy, Paula and Cindy, and seven grandchildren