by Michele Chadwick, Director of Operations, ICU Mobile
Heartbeat's Betty McDowell gave an encouraging message in her presentation at the 2014 Heartbeat International Conference, which came down to a single phrase: I see you. The God of the universe acknowledges and recognizes you. You are valid.
At ICU Mobile, our name and mobile ultrasound ministry (ICU, think "I See You") was born out of a call to proactively reach out to help mothers see their babies in the womb, identifying that every life is valid—sometimes for the first time in a mother's heart.
Revealing and affirming life is at the heart of all our ministries, serving a vital, essential role in life-affirming work. When a pregnancy center provides medical ultrasound imaging, its representatives affirm that the act of visibly revealing life is essential to the ability to fully inform a pregnant mother of the life she carries.
Going mobile medically brings this vital life-imaging service to mothers outside of the center. At ICU Mobile, we believe that at the heart of an accomplished mobile medical clinic, as in the pregnancy center, is a commitment to offer services with faith, wisdom, and experience as our guide. We are committed to standing strongly on the strategic operating principle of extending the reach of our services for women into the –community—in the community of others.
A mobile medical clinic, when operating well, is a tool with the capability of joining a community together under the umbrella of life, drawing pregnancy resource centers together with the church and other community and organizational resources, in support of each other in the service of women.
Key factors that help encourage this united front include neutral branding, a process to provide a full continuum of care for the client, operating from each other's strengths through shared service models, and encouraging good stewardship through shared resources.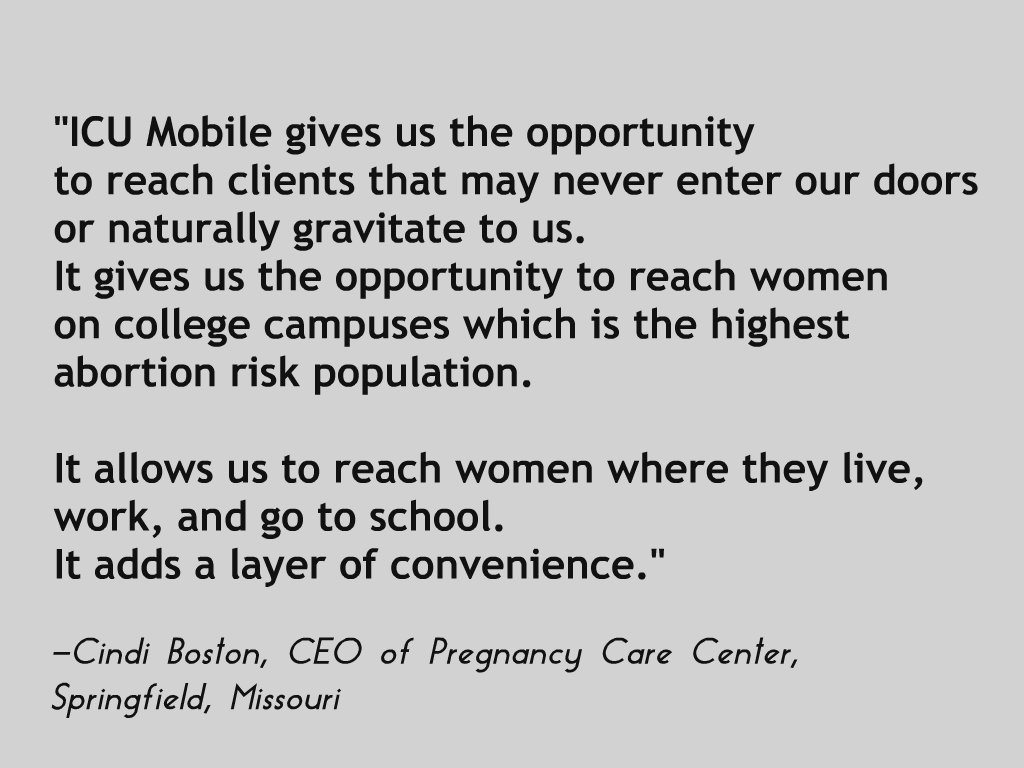 Pregnancy help expert Kirk Walden, in his book, "The Wall" (and who also presented at the Heartbeat Conference!) makes the case for uniting the community to serve women. He asks the question, "What happens if we're the first choice?" The "we" in this question is key. The "we" is all of us working together to be a mother's first choice. A mobile medical clinic can be the "vehicle" (no pun intended) for building this unity.
Mobile operations in joining others together can become one of the most effective ways to reach abortion-minded women. Mobile services provide an effective way to expand your reach without having to build a satellite office, expand internally, or require more space, and it allows a center the flexibility to move to locations to adjust to demographic changes and population shifts.
Further, going mobile avoids the issue of no-show appointments at your center, as well as helping to balance the number of clients seeking social support services and those seeking medical services. Going mobile alleviates the expense of renovation or expansion of services in your center, while providing opportunities to build network supports with other pregnancy help organizations in the community surrounding the center.
Each of these considerations factor into the thought process of going mobile in a community.
When considering the possibility of adding a mobile medical clinic, it is first important—as with adding any medical service—to recognize the seriousness of the endeavor and requires the highest level of commitment to a professional quality medical experience for the client, as it is visible and the first contact with a mother.
Equally important for an organization to note is that going mobile is a unique approach that influences how a center operates, affecting the procedural processes that are needed to accommodate a moving center. A board, leaders, staff, and the connected community must pray and seek wisdom and recognition of the call to serve in this mission capacity.
We recommend you seek others who already operate a mobile medical clinic to learn about effective methods of operation, strategies that work, and the significance of working together in community to serve. It is God who builds these mobile communities, so it will be God who lays the possibility and provides the opportunity for success.
As Kirk Walden asked at the Heartbeat Conference, "What can we do to join hands?" Mobile done in community with others will join hands, and as we are blessed to say at ICU Mobile, it joins hands for little feet.
Here are some practical questions and steps toward adding mobile services:
Do you have a need to reach women in multiple locations who would benefit from the ability to change locations daily?


Is your board and staff ready to take a logistically challenging step that would involve a comprehensive team effort?


Contact ICU mobile and ask questions that would be important for you to consider when incorporating a new program.


Once the board has the buy-in, meet with top donors to survey their interest in the project.


Investigate friends and "influencers" on local college campuses to assess their interest.