Launching the next generation of the pro-life movement.
Powered by Heartbeat International, Next Level CMS harnesses the power of big data to make local centers and medical clinics as effective as they can possibly be.
We believe we're better together, and so is our data. Knowing the real-time trends of the larger life-affirming community is a crucial, yet untapped gateway to breakthrough success on the local level—until now, that is.
Crafted by a team of professional healthcare software developers, Next Level CMS also closes a key informational gap within local centers by streamlining intake and data collection to unleash the power of woman-centered service.
Help us take pregnancy help to the Next Level today!
Next Level Goal
ADVANCE THE PREGNANCY-HELP MOVEMENT – A 3 YEAR PROJECT
• Pioneer a new, game changing pregnancy-help solution
• Utilize next-generation technology
• Build from the ground up on the latest platform for long-term capabilities
Next Level Program
STREAMLINING CENTER EFFICIENCY
• Create a valuable center-management tool for seamless client interaction
• Increase productivity and efficiency
• Expand outreach of the movement to advance life successfully
REAL-TIME DATA
• Utilize innovative statistical research to increase effectiveness
• Increase performance within pregnancy-help organizations through focused metrics
• Provide proven and functional data for effective life-saving processes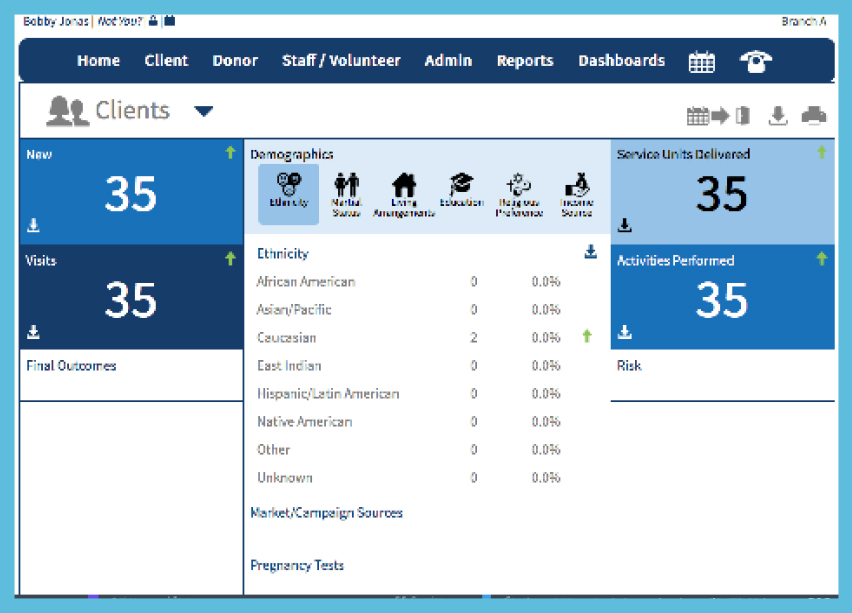 Next Level Movement
THE CLIENT
• Increase reach to at-risk, expectant women
• Leverage mobile app to grow communications and education with clients
THE NATIONAL MOVEMENT
• Provide a modern approach for real-time information
• Use actionable intelligence for true risk factors and effective processes
• Utilize Next Level to save more lives across the nation
Women Need Next Level
Just a year ago, Janai's world felt like it was coming to an end. Janai was only a few classes shy of earning her bachelor's degree in Houston's impoverished Fifth Ward when she was date raped.
In the blink of an eye, Janai went from the cusp of graduation to the specter of facing an unexpected pregnancy that threatened far more than her educational and career goals. A native of Washington, D.C., Janai was still relatively new to Houston and so distant from a family support structure that she was now facing the threat of homelessness.
No matter how many pregnancy tests Janai took, they all told her the truth she would eventually need to face head-on. And she was going to have to do it alone.
Janai began searching online for a free pregnancy test and free ultrasound near her. One search result stood out, however, and it was Houston Pregnancy Help Centers, a pro-life medical clinic with locations downtown and in the Fifth Ward. The organization offers free pregnancy tests and ultrasounds at both locations, so Janai made an appointment at the Fifth Ward site.
"I was praying that she was going to say 'No,'" Janai says of that initial ultrasound. "It changed my life. It was amazing. I heard a heartbeat, and it wasn't just any heartbeat, it was a heartbeat that my body created."
In time, the center would connect her to a community resource called Lifehouse, a maternity home for expectant mothers. Janai lived there until she gave birth to baby "Marz" in November. She then walked with her degree in marketing in late December, marking the end of an eventful year for both mother and child.