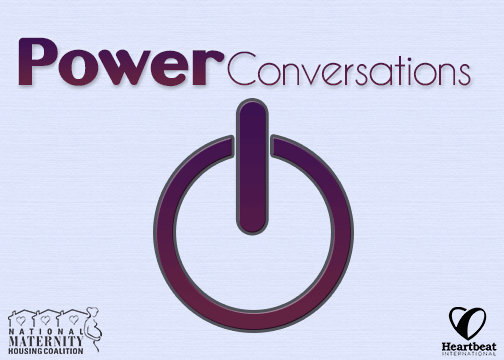 Heartbeat International is partnering with the National Maternity Housing Coalition for a seventh round of highly interactive peer discussions entitled "Power Conversations." Short and sweet, these 45-min conversations are perfect for program staff, house directors, and maternity housing leaders at all stages of development and experience.
The format allows learning from one another in live-conversations as well as an online forum. If you aren't able to jump into the conversation live, a recording of the call and opportunities for ongoing online discussion will be available in the Heartbeat Academy.
Register to access the archive of past conversations
here
!
The next round of Power Conversations begins May 25, 2017 covering a wide range of topics essential for success in your Maternity home.
Summer Power Conversation Schedule:
May 25: Fires and Falls and Floods: Oh, My! Insurance Policies and Claims
June 1: Welcoming the Sojourner: Immigration Issues and Language Barriers
June 8: When the Helpers are Hurting: Staff Triggers
June 15: Motivational Interviewing Skills: Asking So She Will Answer
June 22: Having a Healthy Home: Prevention and Policies
*All calls begin at 12 PM EST